Pallet Rack Systems
We have Everything you need for your complete
Pallet Rack System!
We Are The Manufacturer With The Largest In-Stock Inventory!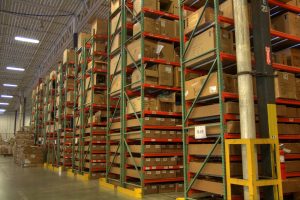 Pallet Rack Systems
Pallet rack systems for inventory storage and warehouse organization come in a variety of styles, with a nearly infinite number of configurations. Complicating matters further, pallet racking systems can be purchased either new or used. Used pallet rack systems can be an economical solution, since as long as the steel components have not been exposed to weather or harsh environments, they will last nearly forever.
Optimizing warehouse racking systems requires a thorough understanding of material handling best practices, the material handling equipment in use, and the materials that will be stored.
---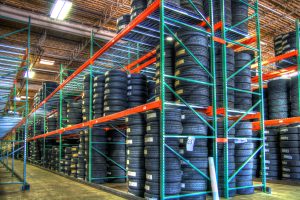 Drive In Racking Systems
Drive in racking systems are a great alternative when a warehouse needs to manage high-density storage of similar products. Drive in rack solutions can enable storage of up to 75 percent more material in the same footprint by making use of every inch — including vertical space.
The right configuration depends on whether inventory is rotated on a FIFO (first in, first out) or LIFO (last in, first out) basis. Drive in racking systems make sense for LIFO, while drive thru pallet racking systems work well for FIFO. Either of these warehouse racking systems enable narrower aisles and denser storage than conventional racking systems.
Conventional Racking Systems
Conventional pallet rack systems consist of steel uprights and beams to support some type of decking to store goods. These systems offer maximum flexibility because the strength, height and length of the bays can be varied during installation to suit the stored material.
Steel uprights are usually classified as heavy duty or light duty, and further subdivided by the style of the locking mechanism used to secure decking to the uprights. Common styles include teardrop and keyhole.
Decking for warehouse racking systems also varies depending on the need. Most warehouses have a combination of wire mesh, cantilevered and stationary decking made of plywood or other materials.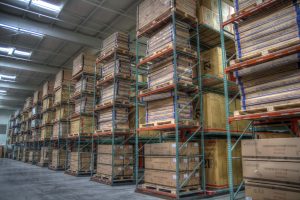 Benefits of the Right Pallet Rack System
Pallet rack systems are one of the most powerful influencers of warehouse efficiency. When the wrong warehouse racking systems are installed, it takes longer to find, store and pick materials. Material handlers may have to waste time traveling throughout the warehouse to gather materials stored in distant locations. Using the wrong type of warehouse racking system can also create a dangerous safety hazard.
Even if you are looking to buy used pallet rack systems, it's important to work with a company that knows and understands warehouse operations. The company should offer consulting help to recommend the right pallet rack systems for your product mix. It should also have ample inventories of a variety of warehouse racking systems; while offering both new and used pallet rack systems for purchase with quick delivery. The company should ensure that used pallet rack systems have not been stored outside — because exposure to weather can lead to rust, which weakens the steel of warehouse rack systems.
Only Material Handling Exchange offers all these benefits to warehouse operators, along with a team of experts who will help you choose the optimum pallet rack systems for your warehouse. Our company will help you optimize your warehouse layout within your budget, whether that covers new or used pallet rack systems.
To find out more about the exceptional services Material Handling Exchange offers, contact us today.