4 Questions You Should Ask When Buying Used Pallet Racks

Buying used pallet racks brings many benefits to your business. Used pallet racks and other equipment can be found at a significantly lower price than new equipment despite being in a similar condition. However, not all used equipment is created equal. Before buying used equipment, there are a few key questions that you need to ask. Use this guide to ensure that you are getting used pallet racks that are up to par.
1. What Are the Specifications?
The first question to ask about the used pallet racks you are considering is about the specifications. "Specifications" refers to the information you need to know about your equipment to ensure that you are purchasing the correct sizes, capacities, and style of equipment for your application. You should always know your equipment specifications prior to purchase, and if possible, you should check out these specs in person.
2. Is the Equipment Up to Par?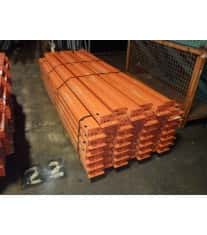 The next question to ask before buying used pallet racks is whether or not the equipment is actually in good condition. Again, in this case it is best to see the equipment for yourself before purchase. If you are not an expert in pallet racking equipment, bring a trusted friend or colleague who is. Then, examine the equipment for any signs of damage. If it appears to be bending or rusting, this used equipment is probably not in good enough condition for you to purchase.
3. Can I Buy Refurbished or Used?
When it comes to used pallet rack equipment, there is a huge difference between the designations of "used" and "refurbished." While used equipment is sold as-is, refurbished equipment has been restored to a like-new condition. Before making your purchase, ask the company about its used vs. refurbished options. You can often find refurbished items for close to the same price as used ones, but at a higher level of quality and with less wear and tear.
4. Does the Company Have a Good Reputation?
Finally, the last question you should ask before purchasing used equipment is about the company itself. Never purchase used equipment from a company that does not have a good track record. To ensure that the company you are using is reputable, ask for referrals and find customer reviews. You can also determine if they are reputable by the services they offer – for example, not offering refurbishing services is a red flag.