Pushback Racking
Factory Direct Pushback Racking
Pushback racking systems are ideal for warehouses with limited storage capacity. They allow storage of multiple pallets in a single bay of the rack by positioning pallets one in front of the other on push back racks. Push back pallet racking at first looks like traditional selective racks, but the bays are much deeper. Depending on the additional density required, warehouse pushback racks can be configured to hold any number of pallets — from two to six — in a single bay.
How to Use Push Back Racks
This dense packing is ideal for materials that lend themselves to a last in, first out (LIFO) storage plan. It is easy to pick the last pallet stored in a location since it will be in the outermost position on the push back racks.
Material handlers deliver the pallets to the location and use the forklift and the pallet itself to "push back" materials already stored in the location until the entire slot is filled. For irregularly shaped or more fragile items, we recommend the use of a pallet collar. This adds uniformity and stability that will help protect the materials, while still allowing the warehouse to achieve the benefits of using push back pallet racking.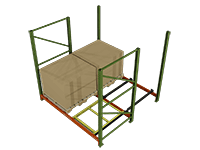 2 Deep Pushback System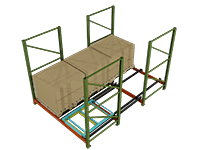 3 Deep Pushback System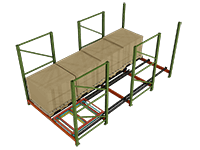 4 Deep Pushback System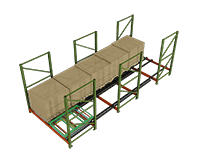 5 Deep Pushback System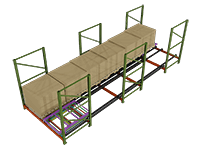 6 Deep Pushback System
Warehouse Push Back Racking Benefits
The advantage of warehouse pushback racks is that they allow greater storage density by eliminating the number of aisles necessary to pick and put away materials. A single aisle may allow access to push back racks holding up to six pallets on each side of the aisle. The extra space that would normally be used for aisles can be used for additional storage. This increases the material density in the space — perhaps eliminating or delaying the need for space expansion. By placing push back racks back to back, you can store pallets up to 12 deep.
Many warehouse planning experts project space savings from 25-65 percent when the warehouse turns to pushback racking instead of traditional selective racks. Push back racks offer some of the same advantages as selective racking in that they are easy to find, pick and put away materials from an aisle. The visibility and picking method are similar to selective racks.
Compare Push Back Racks and Drive-In or Drive-Thru Rack Systems
Pushback racking also offers some of the advantages of drive-in and drive-thru racking. It enables greater storage density, full use of vertical space, and eliminates some aisles. Drive-in racking and push back racking both work well for goods with no expiration dates and a long shelf life — since the last material to be put away will be the first material pulled. Push back pallet racking generally offers more flexible selectivity of pallets than drive-in racking, while providing similar storage density and space utilization.
Material Handling Exchange offers a wide variety of warehouse pushback racks from multiple manufacturers, so they can easily coordinate with your existing warehouse racking. All our push back racks are made from strong, powder-coated steel for a uniform appearance and protection from nicks and dings. All racks are stored indoors in our climate-controlled warehouses, so you don't need to worry about rust or corrosion.
Choose the Push Back Rack Experts
If the goods and materials you store seem ideal for warehouse pushback racks or if you are running out of warehouse space and looking for a more cost-effective option, consider push back pallet racking for at least some of your storage. However, designing a warehouse to make optimum use of pushback racking requires deep expertise in rack systems, safe material handling best practices, and modern warehouse-management techniques.
Warehouse Push Back Rack Design Assistance
Material Handling Exchange has a full team of experienced professionals who will help you design the best pushback racking layout for your warehouse. When we agree on the final design, we can ship your racking from the closest warehouse, helping you save money while increasing your warehouse productivity. You will save space, increase storage density, and improve overall productivity with new warehouse pushback racks.
To discuss the best warehouse pushback racks for your storage situation, contact Material Handling Exchange today.
Again, gain from 25%-65% more storage capacity.  Pushback pallet racking is great when you are looking to gain more storage for your palletized products in your warehouse.  Using a pushback rack system will enable you to capitalize on a bulk storage application while still maintaining your product selectivity similar to standard selective pallet racking.  Our pushback rack systems allow you to store your products from 2-6 pallet positions deep. They are built from high quality steel and have a durable powder coat finish.  When placing a pushback system back to back you can achieve up to 12 deep bulk pallet storage in your warehouse.  Pushback racking systems greatly reduce the amount of forklift travel aisles needed in your warehouse for loading and unloading products from your storage system.  This enables you to create more storage or pallet positions in your existing warehouse facility.  When using a pushback system the operator can stock and pick products from a single location or pushback lane without disrupting other products in the general vicinity.  This process is commonly referred to as a LIFO ( Last-In-First-Out ) inventory management system. When you need additional storage space in your warehouse, pushback can be the answer to avoiding the costly expense of moving to a larger space or adding on to your existing facility.
Let's say that the awkward shape of a particular series of items in your inventory makes it difficult to secure the items to pallets, and the troublesome shape makes it difficult to load them into push-back racks because one pallet cannot be pushed against another. The answer? Pallet collars, which provide a wall around the outside of the pallet to accommodate push-back rack loading and add rigidity as well.
What does all of that mean to you? Value, service, safety, quality. Since 1989, MHE has designed systems that keep customers coming back. Perhaps one of the biggest reasons is the variety and quality you will find in our 350,000 square foot climate-controlled warehouse showroom & our over 300,000 SF spread out over the U.S.
Benefits and Advantages Aisles go away, replaced by pallet racks from 2 to 5 pallets deep. As is the case with the similar drive-in rack, the push-back rack is best suited to first-in/last-out inventory rotation.
More available space utilized compared to selective racks
Allows designation of specific levels as needed
Enhance safety with interlocking, brake-equipped carts
Drastically improved selectivity compared to drive-in racks
Lift truck not required to enter the rack structure, unlike drive-in or through
 If Pushback Racking is not the system you are looking for, view our other new pallet racking and accessories. 

If you don't see what you are looking for, please give us a call at
877-265-4346

Chances are we have it in stock today and can ship it immediately!