Wire Mesh Decks
Thousands of Used & New Wire Deck in-stock for Immediate shipment to your door!
Get just the wire decking you need, with the most popular sizes available and in stock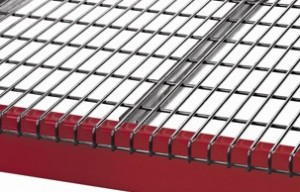 One important decision to make when buying new pallet racking systems for your warehouse is the type of decking to use. Decking serves as the horizontal base for storing materials in your pallet racks. Decking comes in wood and metal, but one of the best options is mesh wire decking.
Flat and Waterfall Wire Decking
Some mesh wire decking lies flat on the support beams, while waterfall wire decking has a lip extending over the front and rear rails to add extra support. Waterfall wire decking is an excellent choice for adding extra rigidity for heavy loads. Either type of decking may have additional rails to add strength.
---
Mesh wire decking consists of heavy gauge steel arranged in a grid pattern. Grid sizes may vary, but most use a grid that is 2 ½" by 4". Another advantage of wire mesh decking is that it is easy to assemble. It simply sits on top of the support beams and requires no additional fasteners.
Mesh wire decking is usually coated with a gray enamel finish to create a uniform appearance and to protect the mesh from the inevitable dings and scratches that occur in a busy warehouse. Used wire mesh decking may have a worn appearance with chips that expose the steel. Once the enamel coating chips, the decking is more susceptible to rust.
As long as it has not been stored outside, it may not matter whether you select new or used decking. When exposed to rain or wet weather, the steel in the wire mesh decking can start to rust, but otherwise, new and used wire decking are equally strong and can have a long life.
New wire mesh decking has the advantage of a fresh, uniform appearance. You may want to buy new decking if you are setting up a new warehouse or expanding your space.
Benefits of Mesh Wire Decking

One major advantage that mesh wire decking has over solid metal or wood decking is that it allows more light to filter down, so it is easier to read labels and tags on pallets, reducing errors. In addition, the openings in mesh wire decking enable more effective sprinkler system access. In the event of a fire, this may help lessen damage to stored goods and reduce losses.
It's important to get mesh wire decking that is strong enough to safely store the materials in your stock room. The wrong mesh wire decking may buckle or slip if it isn't strong enough to support your goods. This is a safety hazard as well as a potential loss of materials, so it is best to work with a company that fully understands the warehousing industry and takes the time to learn about the materials you need to store.
At Material Handling Exchange our experienced team is eager to discuss your warehousing needs, and we have a wide variety of new and used wire decking for sale. This way, you can be certain you are getting the right quality mesh wire decking for your warehouse.
If you'd like to work with knowledgeable professionals when it's time to buy new decking, contact Material Handling Exchange today.