Drive-In | Drive-Thru Racks
Thousands of Factory Direct Pallet Positions of
Used Drive In Racking Available – CALL NOW!
M-H-E can build any depth system you require in either
New or Used
Categories of Pallet Racking Systems
Warehouse pallet racking comes in two major categories: Drive-in racking and selective racking. Selective racking is like traditional shelving in that material handlers approach it from the front of each bay to pick or put away materials. Selective racking systems allow for greater variety in the materials stored, but drive-in racking enables better use of available space through denser storage. Selective racking can be configured to store materials in various-sized containers.
Drive-In Racking Systems
Drive-in racking systems come in two subtypes. Drive-in pallet racking systems are set up to allow the material handler to drive a fork lift directly into one end of the bay to deposit or retrieve pallets. Drive-thru rack design allows the forklift to traverse the entire length of the drive-thru rack, although frequently, warehouses use one end for picking and the other for putaway.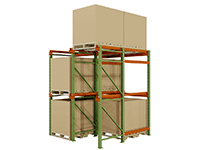 2 Deep Drive-In System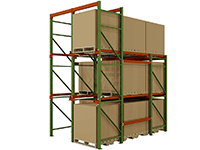 3 Deep Drive-In System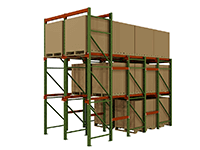 4 Deep Drive-In System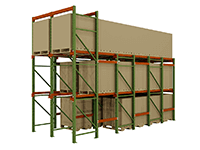 5 Deep Drive-In System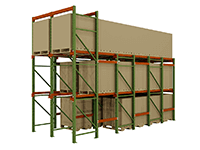 5 Deep Drive-In System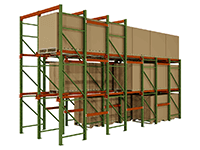 6 Deep Drive-In System
Choosing the Right Racking System
Drive-in racking is excellent for storing last in, first out (LIFO) materials because the most recently put-away material is always accessible at the open end. Drive-thru racking is great for FIFO materials, such as food and items with expiration dates like medical consumables. In this case, the new material is put away at one end of the drive-thru rack and the oldest pallets are picked from the other end. This ensures that the oldest material is picked first.
Optimizing Space Utilization
Both types are good for warehouses with limited space, since they only require a single aisle for access, allowing up to 75 percent more pallets to be stored in the same space than with traditional selective racking. Since drive-thru racking allows optimum use of vertical space, warehouses have the ability to maximize the density of stored materials.
Drive-in pallet racking systems can be configured to store various quantities of pallets. Material Handling Exchange stocks drive-in racking and drive-thru racking in two-, three-, four-, five- and six-pallet deep configurations. The optimum length of drive-in and drive-thru racking systems will depend on the available space, the size and weight of the goods, the shelf life of the goods, the equipment in use, and the strength of the available shelving — among other factors.
Drive-Thru Rack Design Considerations
Drive-thru rack design requires a detailed understanding of the materials to be stored and their lifecycle to ensure that materials are routinely used in the right order to prevent expiry and obsolescence.
In addition, drive-thru rack design requires a detailed knowledge of the load capability of the racks and the forklifts and other material handling equipment. The drive-thru rack design professional should be aware of industry best practices and have a strong grounding in the warehouse management industry. Material Handling Exchange has a full team of experienced professionals who can assist with your warehouse design.
Why Choose Material Handling Exchange?
Not every material handling equipment company has a team of experienced professionals with the necessary expertise like Material Handling Exchange. In addition, we have warehouses across the country so we can fulfill your order from the nearest facility, helping you save on freight costs as well as the total cost of your warehouse racking systems. With over 500,000 square feet of climate-controlled storage, we have the right racking system for you, ready for immediate shipment. If we don't have it in stock, we'll source it and ship it to you fast.
Drive In / Drive Thru Rack Return on Investment
Benefits as compared to conventional selective racking:
Up to 75% more pallets in same space as selectable racks
Compact rack storage, requiring minimal comparable space
Lesser heating or cooling requirements
Lift truck access required on as little as one side only (drive-in racking)
Accommodating of comparably narrower aisles
Maximizes available vertical space
Allows for growth without increasing footprint
Density is the operative word here, meaning density in return on your investment. To get help right away on your unique requirements, call or fill out the Free Quote.
The Long and the Short
Selective racks allow for greater variety but lesser density, whereas drive-in/through pallet racks allow for lesser variety but greater density. Accessed from only one end, drive-in racks are best suited to last-in/first-out inventory pallet rotation, and drive-through racks, which are accessed by either end, are best suited to first-in/first-out, yet both are widely used for cold storage, quick-moving seasonal items, or inventory of much of similar items.
MHE and the Science of Rack System Design 
MHE approaches pallet rack design, such as drive-in/drive-through racking systems, as a science with textbook awareness of manufacturers' recommendations for loads and authoritative knowledge of the best practices utilized industry-wide. Specifically, we routinely calculate, with pinpoint accuracy, loads down to the very item and storage system components down to the bolt. We specialize in precision calculations especially for drive in/drive through systems, such as recommendations of how many and which lift trucks you should consider (counterbalanced, narrow aisle reach, deep reach, swing mast, articulating, walkie-stacker). Over 500,000 Square Feet of Climate Controlled Showroom Space throughout the Nation! Manufacturers of new and used drive-in and drive-through pallet rack systems in stock: If the pallet racking system components you need are not in stock, which is highly unlikely, rest assured that our expert staff will call upon our expansive national network of vendors to ship the item in question to you immediately.
Contact Material Handling Exchange Today
If you have questions about drive-thru pallet rack design, contact the professionals at Material Handling Exchange today. We'll help you get the best, most efficient layout for your available space to optimize warehouse productivity.