Pallet Rack Uprights
Factory Direct Pallet Racking – Straight From the Manufacturer
THOUSANDS of New Pallet Rack Uprights
In-stock and ship within typically 48 hours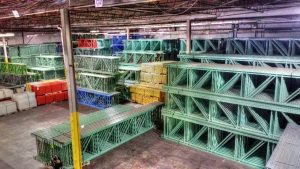 Pallet Rack Uprights  
Pallet racking uprights are critical to the structural integrity and strength of your warehouse storage solutions. It's important to select the correct pallet rack upright to support the load the pallet racks will bear, as well as to ensure they interlock securely with any existing pallet rack storage already in place. Pallet racking uprights come in a variety of gauges to easily support the weight of the stored goods.
Double or Single Uprights
Pallet racking uprights can be either double or single, depending on the configuration of your warehouse and the material it stores. Single uprights are ideal for storing materials such as boards, pipes, tubing and hoses that are picked and stored from one side. Double-sided uprights work well for support of horizontal storage platforms made from wire mesh, plywood or other materials. They are the better choice when material may be picked and stored from end to end or from both sides of a pallet rack. They also provide additional stability when rows of racks are placed back to back.
Pallet Racking Upright Connectors
Pallet racking uprights can have multiple types of connections. The most common connector is a teardrop, which provides strong support and stability. Material Handling Exchange manufactures pallet racking uprights with teardrop connectors, but we stock many other types of pallet rack uprights. If you need other connecting slots, we have them in stock, too, in our used pallet rack uprights inventory.
---
Pallet Rack Uprights
New or Used Pallet Racking Uprights Available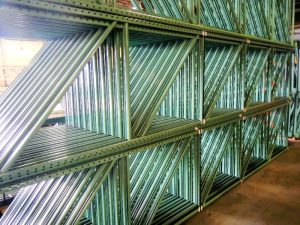 New pallet racking uprights can be manufactured and purchased to exactly match your needs. Feel free to specify the gauge of the steel that best suits your load as well as the connection type. When buying new pallet rack uprights, you can ensure that they are all uniform in color, connection and load strength. This provides maximum flexibility in laying out your warehouse and deciding where to store goods. Knowing that your warehouse pallet racking system is designed to support your loads increases efficiency and ensures peace of mind due to the improved safety.
Used pallet racking uprights are just as strong as new, as long as they have been used and stored indoors under climate controlled conditions. Since it is made from steel, a pallet rack upright that has been exposed to the elements may rust, weakening its ability to support heavy loads. At Material Handling Exchange, we certify that our used pallet racking uprights have been used and stored indoors. As long as you don't mind a few dings or chips in the paint from normal wear and tear, used pallet racking uprights can be a great way to save on the cost of outfitting a warehouse.
Material Handling Exchange: Your Source for Pallet Uprights
Material Handling Exchange can manufacture your new pallet racking uprights to your exact specifications at any of our nationwide manufacturing and distribution centers. By working with us, you save money on the initial purchase price as well as the costs of distribution.
When you are looking for pallet racking uprights, Material Handling Exchange can meet your needs. We have experienced warehousing personnel who can assist with the design and layout of your new facility to help ensure maximum efficiency and lowest cost. We know where to use double or single uprights, and can fill your orders in any quantity — from an entire warehouse to a single upright for replacement. Contact us today to find out more.
CALL US TODAY FOR PRICING AND AVAILABILITY!  MHE has all Sizes IN-STOCK at Rock Bottom Prices !