A Guide to Warehouse Safety

Did you know that over 145,000 people work in more than 7,000 warehouses across the U.S.? The warehouse industry is very hazardous to the many workers it employs; in fact, this industry has a higher rate of fatal injuries than the national average for all U.S. industries combined. Warehouse hazards come in many different forms, and it's important that you practice proper safety and adhere to OSHA standards in your warehouse at all times.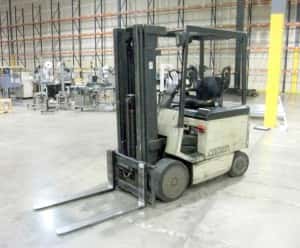 Equipment & Product Safety
Equipment, including forklifts and conveyors, poses a significant danger to employees. OSHA found that the number one standard most frequently broken by warehouses, leading to citations, is the standard for forklift safety. Ensure that all employees are educated about equipment safety and proper procedures. You should also perform routine inspections to ensure that your equipment is well maintained and safe to use.
Docks also pose a threat as forklifts can drive off of them, products can fall on workers, and other equipment can potentially hit an employee. To prevent these issues, forklifts should be driven slowly, dock plates should be secured, and all aspects of your dock should meet OSHA standards. Finally, proper storage is important to ensure that products do not fall and harm employees.
Fire Safety
Fire safety is also key in a warehouse, as many aspects pose a threat. First, you should always ensure that there's no smoking or open flames around charging stations. Ensure that these areas have proper ventilation as well as fire extinguishers on hand. You must also follow OSHA standards for electrical wiring and system design to ensure that a fire does not occur. Finally, adhere to fire codes in terms of aisles, product storage, etc.
Ergonomics & Lifting
If your employees aren't properly trained in manual lifting and ergonomics, they could injure their backs or develop musculoskeletal disorders. You should not only always provide ergonomics training and encourage workers to seek help when necessary, but also use equipment and better design techniques to reduce the need for manual lifting.
Employee Communication
Finally, employee communication is key. A common OSHA standard that warehouses receive citations for is hazard communication. If a hazardous material spills in your warehouse, proper procedures should be taken in terms of clean up, protection, and disposal. There should be a log of what chemicals workers are exposed to, and they should be trained on the dangers of chemicals in your facility.