Benefits of A Used Pallet Racking Systems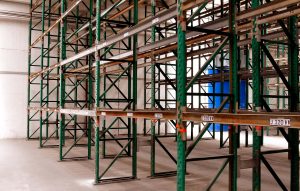 For many industries, storage and warehousing represents a major cost. If your business is dealing in non-perishable goods with a reasonable shelf life, managing your handling costs can be a major challenge. Introducing a pallet racking system as a long-term industrial storage solution is the only viable option.
Pallet racks refer to a material handling and storage system that stores materials on skids or pallets. Forklift trucks are then used to lift the goods and keep them on their designed shelves. A typical rack can store several rows of homogenous products. They have been in popular use since the Second World War.
When it comes to selecting the right pallet racking system for your warehouse, you can choose from either new or used pallet racks. While a new system has its own benefits, used pallet racking system offers a lower cost in the longer run, helps you manage your inventory better and drastically reduces your handling costs.
Here are a few ways how:
Low Cost
Used pallet racking is considerably cheaper than a new system altogether. For businesses and industries considering downsizing and implementing effective controls over warehouse management, used pallet racking can help them lower their costs. They also keep your materials and goods safe from wear and tear.
Value for Money
Pallet racking is an affordable way to organize your inventory. With different styles available, they offer an inexpensive way to organize your warehouse and job site. Used pallet racking is built-to-last. Even after subsequent usage, it is likely to recover a large amount on sale. Used pallet racking also has an active market of buyers and the subsequent sale is fairly easy.
More Profits
Since your inventory handling and storing costs are reduced, you can improve your operational profit. Used pallet racking requires simple handling and technicians who know how to operate forklifts and pallet jacks. The racks require little to no maintenance and have a long useful and economic life. This means that a low initial investment is spread over a long economic life to maximize the benefits for your business.
Best Industrial Standards
When buying used pallet racking from us, you need not worry about the quality. All our racks are made with high quality materials and in accordance with regular industry and manufacturing standards. This ensures reliability and durability in the longer run, as the base material is unlikely to deteriorate over time.
To learn more on the benefits of used pallet racks and check out an amazing and affordable collection, please feel free to contact us!