Fire Extinguisher – How to Choose the Right Type to Control Warehouse Fires?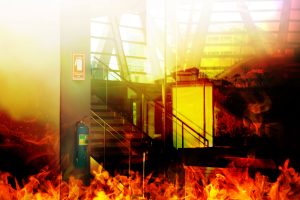 Fires occurring in a storage area or a warehouse can pose serious and sometimes, even life-threatening hazards for the people working in and around the premises, and also damage your property badly, resulting in huge financial losses. Did you know that during the years 2005 and 2009, nearly 1,310 fires incidents occurred within warehouses in the US, many of which were a major financial loss as they were not well-equipped to combat the fire properly?
Compliance with fire-codes is merely not enough to ensure your warehouse is well-protected to handle all kinds of fire hazards that may occur. To ensure employee safety and to protect your property from fire, here's what you need to do:
Know What You Are Storing in Your Warehouse
Complete understanding of what you store in your warehouse is imperative for fire safety. For example, cold storage warehouses store a variety of flammable products that can pose serious fire hazards within the building, such as the food coloring within frozen foods is flammable; often classified as a Class II and Class III commodity. Their cardboard storage boxes are also combustible because the cold air in refrigerated warehouses dries the cardboard and the drier it is, the better it burns.
In addition to this, special equipment needed for services around the warehouse also pose risk of fire occurrence such as rolled paper, baled fiber, lighting and lift truck batteries, and so on. In modern warehouses, high intensity discharge lighting, such as high pressure sodium and halide lamps are quite commonly used, which are also combustible. In fact, studies show that they are the cause of 12 percent of all fires in warehouses today. When the internal temperature of these lighting lamps reaches 1000 degrees, the lamps can explode if there is a sudden internal-failure and emit hot fragments which can ignite a fire in seconds.
Besides this, ammonia-based refrigeration is also quite common in cold storage warehouses. And here, it is important to know that ammonia is flammable.
Improper pallet stacking can also lead to fire. Though pallets are a great help to carry and load heavy cargos in warehouses but let's not forget that these are combustible because of the material they are made from. Stacking idle wood and plastic pallets improperly in piles can lead to serious fire conditions because of the heat release, creating a high velocity plume of gases when they become dry and frayed.
Therefore, to ensure you have the right equipment to combat fire situations, it's vital to know what is stored in your warehouse.
Have an Updated List of all Hazard Materials and Their Locations
Make sure the list of hazard materials in and around your warehouse is updated frequently. For example, you should know where flammable liquids like grease, oil and kerosene are kept and where combustible metals are being used.
Have the Correct Fire Extinguishers and Check Them Regularly
To control warehouse fires, there is more you need to do then just installing fire sprinkler systems. Investing in the right type of fire extinguishers is also vital. Different types of fire extinguishers are used for different situations. Based on the type of combustible items and equipment stored in your warehouse, you can select the right type of extinguishers to cope with fire emergencies.
Here's how fire extinguishers are classified:
Class A Fire extinguishers are used for combustible materials like paper, cardboard, wood, rubber and plastics.
Class B Fires extinguishers are used to stop fire resulting because of flammable liquids like oils, gasoline, grease and paints.
Class C Fire extinguishers help control fire resulting from combustible electrical equipment like wiring, fuse boxes and energized electrical equipment.
Class D Fire extinguishers are commonly used for fires that involve combustible-metals like magnesium, potassium and sodium.
Train all Your Employees What to Do in case of a Fire Emergency
Having the right fire extinguishers in the warehouse is important. However, using them in the right way is also imperative to overcome fire emergencies. This calls for effective training of your staff. You must train your employees to use the fire equipment as it is much needed to help the staff understand different types of fires, common classes of fire extinguishers and what types of fires they can handle. It is also important to note that if the wrong extinguisher is used, it can add fuel to the fire as well, making training essential.