How to Prepare For Your Next Warehouse Inspection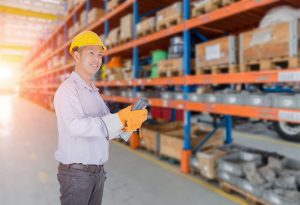 What is a Warehouse Inspection?
If you own or operate a warehouse, you may be aware of the dreaded annual or bi-annual warehouse inspection conducted by your local industrial compliance body. The common scenario is that a team of health and safety inspectors make a visit and go through every nook and cranny of the entire premises, making displeased faces and jotting down notes the entire time while you tail them nervously. Although these people may seem like villains, and the whole thing may feel like an inconvenience you just want to get rid of as soon as possible, the fact is that these inspections are very important in maintaining a healthy working environment as well as ensuring the safety of the people working in them.
How can you prepare for one?
Warehouse safety inspections are very important and the warehouse management should always be ready for one. With the hectic holiday season behind us, this may be as best a time as any to prepare for the impending warehouse safety inspection a few months away.
The first thing to do to prepare for your next inspection is to make a warehouse inspection checklist. That's right. Before the health and safety inspectors come and point out the shortcomings of your warehouse, it's best to identify them yourself during a pre-inspection and take care of them. This will not only fulfill your goal  of transforming your facility into a hundred per cent compliant facility with government standards, but it will also allow you to sleep soundly at night knowing that the people working in your warehouse are safe and no untoward incidents that may claim the life of the employees or loss of goods will take place.
Here are some things to consider:
Prepare a list containing all the architectural structures in your warehouse, for example doors, windows, ceilings etc. Then go through them one by one and see if anything needs repair.
Make sure all chemicals are being stored properly. Direct exposure, even in limited quantities, can prove to be a very big health and safety hazard in the workplace.
Do a thorough inspection of all the forklifts and pallet racking in use in the warehouse. The forklift is one of the most used machinery in the warehouse so it goes through some serious wear and tear over time and can be extremely dangerous for the operator in case of a malfunction.
Pay attention to the working environment in your warehouse. Make sure the noise level is under permitted level so as not to affect the hearing of people exposed to it daily. Also, make sure all areas are well lite when being used. If energy costs are an issue, you may want to look into motion sensor lights that come on only when someone is in the area.
What to avoid?
Remember, the result of your inspection is public and will reflect your warehouse management skills. Therefore, avoid shirking your responsibilities and make any repairs and replacements needed as soon as possible. Failing to do so may result in getting slapped with heavy fines or maybe even the closure of your facility, not to mention the safety hazards involved if you become irresponsible with your warehouse management. So take action today and ace that inspection.