How Warehouse Accuracy Helps Improve Inventory Visibility and Profitability

Warehouse inaccuracy is one of the main reasons for high overhead costs. It is important that you focus on improving its accuracy through proper warehouse inventory management, and boost business profitability!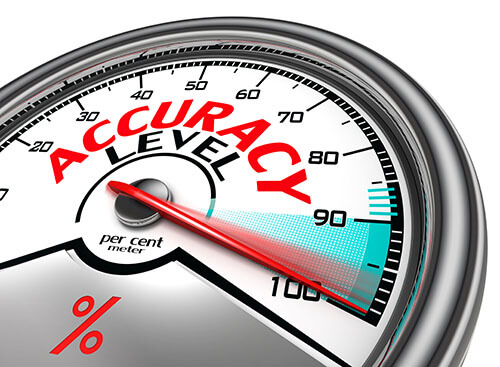 Companies rely on the information in the warehouse inventory system to make decisions regarding production schedules, restocking the inventory, and meeting other warehousing needs. Warehousing inaccuracy leads to costly mistakes that ultimately hurt bottom line of the business.
Without accurate warehousing information, businesses cannot make efficient inventory decisions. Inaccurate warehousing information leads to production delay, increased idle time, and failure to deliver products on time according customer's specification.
That's why it is essential that businesses focus on improving warehouse accuracy to avoid the negative cycle of declining productivity and inefficient warehouse inventory management.
Warehouse Accuracy: What Does it Mean
Warehouse accuracy means making the system of storing, receiving, and distributing inventory more efficient and accurate. Inventory inaccuracy is a headache in itself that erodes warehouse's efficiency and business profitability. Some of the negative outcomes of inventory inaccuracy include increase in backorders, poor customer service, lost productivity, and high obsolescence costs. All of these directly hit profitability of the company with increased overhead costs.
Warehouse accuracy can be improved by implementing a solid warehouse inventory management system that results in improved inventory accuracy and visibility. The process of counting and monitoring inventory should be simple that allows frequent inventory count. Moreover, the inventory level should always reflect actual physical inventory stored in the warehouse at any particular time.
Tips and Advice to Improve Warehouse Accuracy
Implement Inventory Cycle counting – Taking partial physical count until you cycle through the entire inventory. The process continues forever and when one cycle ends, another one starts. Cycle counting helps improve warehouse accuracy. Moreover, it is much more efficient as compared to undertaking full physical count. You can figure out which inventory items are more in demand or costly so that you can count them more frequently.
Develop Automated Management Reporting – You can also improve warehouse accuracy by implementing an automated system that generates management reports informing about inaccuracies in the inventory system. The report could include information such as percentage of times items were not found in their expected places, mislabeled, damaged, and/or out of stock.
Make Use of Wireless RFID tags – RFID tags can greatly improve warehouse accuracy leading to efficient inventory management. They are embedded to each inventory item that warehouse personnel can read using a wireless receiver unit or sensor. The RFID device integrates with a warehouse management system to update inventory data in real time.
Other Methods – Apart from the above, there are other ways you can improve warehouse accuracy such as developing a 'Storage Policy' to ensure that items are stored at correct places, training warehouse employees to follow accurate inventory control procedures, identifying causes of inventory stock outs, and setting and monitoring inventory related key performance metrics for warehouse personnel.
What NOT to Do While Improving Warehouse Accuracy
Lazy housekeeping, Inventory items are not organized properly
No inventory audit and verification
Lack of personnel for handling bulk inventories
Inefficient inventory documentation process
Not taking immediate steps to resolve errors during periodic inventory counting
Not allocating enough resources (time and money) for implementing solid warehouse inventory system
Relying too much on outsourced services for inventory management
Ignoring staff development and training to improve warehouse accuracy
In summary, focusing on warehouse accuracy will lead to improved inventory management and reduced overhead costs. The resources spent on implementation of systems and methods to improve warehouse accuracy will be well worth it in the end.
An accurate warehouse inventory system will result in improved inventory visibility, reduced overhead costs, minimum idle time, and increased customer satisfaction. All of these factors in combination will greatly help in boosting business revenues, and profitability.