Uses for Used Industrial Metal Shelving

How Used Industrial Metal Shelving Is Implemented
Used industrial metal shelving is a great solution for any business that needs to maintain an in-store inventory. While pallet racks and cantilever racks are perfect for warehouse storage, you probably need something smaller for your in-store inventory storage needs. However, buying enough shelving to fit your needs may become cost prohibitive if you're looking to buy new shelving.
One way to make this storage solution more affordable is to consider buying used industrial metal shelving. Let's take a look at where and how this storage solution is used in order to give you an idea of whether or not it is right for you.
Industrial Metal Shelving Is Used in…
Department Stores
There are exceptions, but many department stores find industrial metal shelving to be too utilitarian for extensive use on their sales floor. Nevertheless, take a look in their back storage rooms and you'll typically find walls lined with these versatile shelves.
Grocery Stores
From the "big box" stores to local grocery stores, you'll find industrial metal shelving being used in grocery stores almost without exception. Aisle after aisle is created using these shelves that can hold many different kinds of products while still being easy to clean when a spill occurs.
Automotive Stores
You may not be the type of person who performs your own car repairs, but you've probably ended up in an automotive store at some point anyway. Industrial metal shelving is used in these stores both on the sales floor and behind the register. In most cases, they are put to use holding everything from oil filters to headlights.
Hardware Stores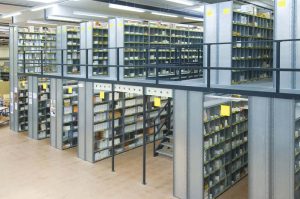 Hardware stores, like automotive stores, use industrial metal shelving for most of their in-store inventory storage. These heavy-duty shelves are perfect for storing the wide variety of items that hardware stores carry. In fact, today's hardware stores carry almost anything needed for any type of repair; plumbers can find plumbing supplies and electricians can find electrical supplies all in the same place.
Military Surplus Warehouses
If there's anywhere that a utilitarian look is an asset, it's probably in military surplus warehouses. With an even wider variety of items than a hardware store, these stores have an even greater need for a versatile storage solution like industrial metal shelving.
If you've decided that industrial metal shelving would suit your storage needs, consider saving yourself some money by purchasing used shelving.