What is Carton Flow Racking?

Carton flow racking is a dynamic storage system that can greatly increase efficiency in your warehouse. With a carton flow racking system from MHE, you will have the benefit of better product flow and increased ease for your picking crew. While carton flow racking is not ideal for every application, it does have significant benefits for many different types of storage systems. Learn more about why you should choose carton flow racking for your warehouse.
How Carton Flow Racking Works
Carton flow racking is a first in, first out style of storage system. Utilizing a rolling track and the force of gravity, carton flow racking pushes product forward as it is picked from the front of the rack. This type of system can be installed in nearly any existing pallet rack system. Carton flow racking generally does not necessitate any additional materials or supports to the system that you already have. When implementing carton flow racking, you can simply install the track and other components of the system into your pallet racks.
Components of Carton Flow Racking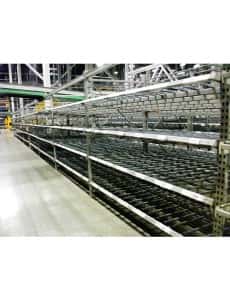 Carton flow racking is similar to traditional, static storage systems because they both consist of starter units that can be added on to as necessary. The most important piece of a carton flow racking system is the roller track, which is what enables your products to shift forward as they are picked. The frames of a carton flow racking system are usually designed as either layback or square front. While layback adds access and visibility, the square front frame is useful for heavy products.
Your carton flow racking system will also include shelves, which come in four different types: standard shelf, knuckled shelf, reverse knuckle shelf, and shelf tray. Standard shelves are beneficial for picking full cases, while knuckled shelves are utilized in picking items from the case. The reverse knuckle style is advantageous for picking from split cases, and the shelf tray adds space and convenience to the operation.
Benefits of Carton Flow Racking
Using a carton flow racking system is beneficial to your warehouse for many reasons. This storage system is considered dynamic rather than static, because it allows your load to move to the front of the rack on its own as the preceding products are picked. This saves time and effort on the part of your crew because it eliminates the process of bending, reaching, and pulling when picking. In addition, carton flow racking maximizes your available storage space. Overall, carton flow racking brings a much more efficient system to your storage facility.