What Type of Pallet Rack is Right for Your Business?

When it comes to choosing pallet racks for warehouse inventory management, there is a lot you need to consider besides just focusing on maximizing your storage space. That's right; there is a lot of thought and consideration that goes into pallet rack selection to optimize the overall performance of your warehouse operations, minimize bumps from forklifts and more importantly, make the workplace safe for on-site employees by lowering the risk of a rack collapse.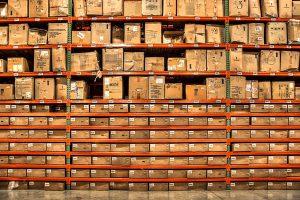 Here are some of the most important factors you must consider before you make your new investment:
Warehouse floor space capacity
Height of your ceiling
Type of storage items
How often will you need to access the pallets
Shelf life of your items
What type of inventory management process do you follow such as FIFO or LIFO
Types and size of fork trucks you use to access pallet racks
Based on these factors, it will be much easier for you to navigate through the wide range and different types of pallet racking available and make the right pick for your warehouse setting.
Types of Pallet Racks for Particular Industries
Now let us take a deeper dive and see what types of pallet storage racks are available:
If you're looking for an affordable and efficient way to maximize warehouse storage capabilities and you typically use Last In, First Out (LIFO) inventory management method, then drive in pallet racks may be a good choice for your business. These racks allow for high density storage, and also provide plenty of space for forklifts to move around and through the aisles and continue stocking without any hassle.
But for inventory rotation, this type of rack may not be the best choice after all. Then, you might have to consider push-back racks.
These make a great choice for warehouses that focus on inventory rotation and yet want efficient storage space. They allow for specific selection of inventory items – eliminating honey-combing and giving you adequate space for individual storage levels.
If you use forklifts around your warehouse more frequently and want to minimize the risk of forklift bumps with the racks, then selective pallet racks are most suitable. These are extremely useful for a large array of SKUs. They allow you to access 1 pallet without the need to move other pallets in the vicinity while the back to back rows allow for easy forklift movement and stock control.
Featuring thick arms and support columns, cantilever rack are free standing racks with multiple and large horizontal arms extended from a single-vertical column. It is a unique racking option that can be modified easily to withstand various sizes of products of different weights. However, they are best suited for storing long items, such as building materials, bars, lumber and pipes.
Used primarily in the furniture business, this structural cantilever rack comes with wire mesh decking and has open shelving without front side obstructions.  This type of racking is best utilized with oddly shaped products such as furniture, though they can be used for a wide range of other products.
If your warehouse operates on the First In – First Out (FIFO) inventory management method, then carton flow racks are the right choice for your business. They use a rear-load design for easy inventory management and operation. This allows for more efficient and faster turnaround for inventory that must be moved in a timely and accurate manner.
Now that you know the different types of pallet racking systems available, it will be much easier for you to make your selection best suited to your warehouse needs and optimum inventory management requirements.