Used pallet racks, also known as steel racks, warehouse racks, and industrial storage racks, are a common sight in any warehouse or storage setting because, as their name suggests, they are used for storing pallets loaded with products. There are a number of different styles of pallet racks. Both new and used pallet rack systems come in many different sizes and capacities so that they can accommodate a wide range of pallet sizes and load weights.
Below, you'll find descriptions of the four most common types and two common styles of pallet rack systems. You may also want to check out our page on How to Build Your Pallet Racking System.
Did you know that M-H-E offers Professional Warehouse Layout and Design Assistance for FREE? 
Pallet Rack Systems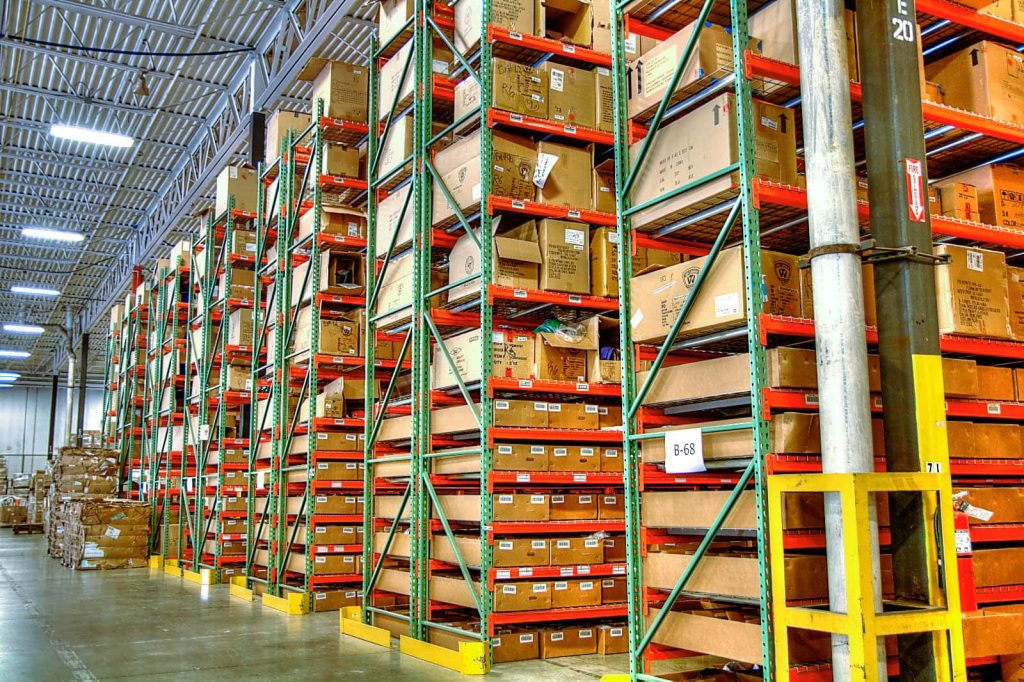 Selective Pallet Racks
Selective pallet racking systems are the most common style of pallet racks on the market today. Their basic components are upright frames and rack beams. With selective pallet racks, all of your products are easily accessible from your forklift travel aisles, and you don't have to move other products around to gain access. This saves both time and money. Additionally, each selective pallet rack bay can have multiple beam levels. Selective pallet racks are great for storing a wide variety of products that you need immediate access to at any given time.
Pushback Pallet Racks


Pushback pallet racking systems are great when you store a lot of the same products. A new or used pushback pallet rack system allows you to store your products 2-6 pallet positions deep. If you place pushback racks back-to-back, you can achieve up to 12 deep bulk pallet storage in your warehouse. This ability limits the number of forklift travel aisles needed in your warehouse and gains you 25%-65% more storage capacity in the same area. Pushback storage systems should be used for Last-In/First-Out (LIFO) inventory management.
Pallet Flow Pallet Racks


Used pallet flow racks is another racking system that maximizes the use of your warehouse space. Like the pushback systems, pallet flow racking is a high-density storage option (2-6 pallet positions deep) with fewer forklift aisles. This warehouse rack style is driven by gravity and can be used for fast-moving product with First-In/First-Out (FIFO) stock rotation. Their sloped shelves have heavy-duty skate wheels that allow palletized loads to flow forward to a picking position. These steel racks can also be combined with carton flow systems that use multi-level picking modules to split loads into boxes or piece parts.
Drive-In & Drive-Thru Pallet Racks


With drive-in and drive-through racking, density is the operative word. You can get up to 75% more pallet storage in the same space as with selective pallet racks. These steel racks maximize your available space, but they do require a lift truck. Drive-in and drive-through racks are best used for warehouse storage when you need a lot of storage density but don't have a lot of variety. Drive-in racks are best suited for Last-In/First-Out (LIFO) inventory management and drive-through racks are best suited for First-In/First-Out (FIFO) stock rotation because they are accessible from either end.
Pallet Rack Styles
Teardrop Pallet Racking
When possible, teardrop pallet racking systems are the way to go. They are one of the most popular styles available, largely because their unique design requires no bolts, nuts, clips, or other accessories in the assembly process. You know what that means: simple and fast assembly! Teardrop is a style, not a brand, so you can often mix and match teardrop pallet rack components from different brands without compromising your system. When purchasing used pallet racks, it's important to remember that flexibility is the key to getting the most out of your storage system.
Structural Pallet Racks
Like teardrop pallet racks, structural pallet racks is a style rather than a brand. Pallet racks made in this style are made of heavy duty materials and held together with nuts and bolts. As a result, a professional installation team should be contracted to set up structural pallet racking systems. Because of their impact resistance, this style of warehouse racks tend to be very popular in areas with seismic activity.
M-H-E Equipment Condition Guide
Material Handling Exchange sells pallet racks and other industrial storage racks in any of these three conditions:
Used/As-Is Equipment:
Our used/as-is equipment is your most economic choice for buying equipment. We vouch for the structural integrity of all used equipment we sell, but these racking systems have not been repainted or prepped in any way. Which means that they may have markings from their previous use.
Refurbished Equipment
All of our refurbished equipment has been rigorously reconditioned using a five-step process. This process ensures that each piece of equipment is in "like new" condition but with a considerably lower price tag. M-H-E's reconditioning process involves these steps:
All stickers and markings are removed from the surface of the equipment.
Each component is inspected thoroughly for structural damage – if any damage is found, it is repaired or replaced as needed.
The equipment is cleaned and prepped for painting using the latest technology to remove any rust or residue without affecting the integrity or value of the metal.
The item is then painted and cured.
The equipment is cooled and is then sorted, packaged, and shipped to the client.